ED Technologies, Inc.
---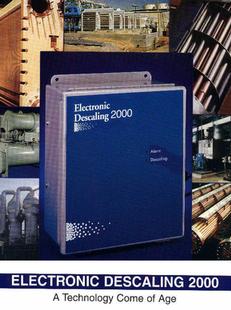 The ED 2000 Anti-Fouling System is a newly developed, newly improved solution to an age-old problem. In the past, attempts at understanding how these types of technologies worked have been futile. Today, a clear understanding of how mineral precipitation fouling forms and how it adheres to heat transfer sites is the basis for developing a consistent and reliable solution. These critical steps have been accomplished through an extensive research and development effort. The result:
A clear understanding of how electronic descaling works, where it works and where it is not applicable.
Patented improvements to insure consistent and reliable performance.
Laboratory validation performed through scientifically accepted protocol by a well-respected university research team.
Field-tested through leading organizations.
Effective solution to mineral precipitation fouling that can be applied to many types of applications
Solid, installed and guaranteed through established sales channels such as, Goodway Technologies Corp., Global Water Technologies and York International Corporation.