Sales Channels
ED 2000 does not employ sales representatives of our own, rather we have associated ourselves with leading firms in many of markets, and rely on their sales force to represent us. If your intended use of our technology is for cooling, please contact your nearest York Service Office for complete details. If your intended use of our technology is for a total water treatment solution, please contact Global Water Technologies. If you want to enhance the performance of brush punching either chillers or boilers by using ED 2000 technology, please contact Goodway Technologies. If your intended use is with a Heat Exchanger, please contact either American Precision Industries or Alfa Laval Thermal.
For the name of your nearest representative please contact us at:
For your convenience, for information about the following associated companies, please use the available links to the home pages of our associates.
York International

York International is the largest independent supplier of HVAC & R equipment in the United States and a leading competitor in the industry internationally. York offers the ED 2000 Anti-Fouling system through its Applied Systems Service Division - the world's largest factory-based service organization.
As you perform annual heat exchanger maintenance, you should consider York's ED2000 Anti-Fouling System. The ED2000 System significantly reduces the build-up of mineral scale deposits on condenser tubes. Scale significantly reduces the heat transfer rate of the condenser. Reduced heat transfer rates will significantly increase chiller operating costs and eventually result in surge and other operational problems. York has detailed information on the problems of scale and the manner in which the ED 2000 addresses the problem. An indication of white or chalky deposits found on the inside diameter of condenser tubes are likely an indication of mineral scale. Any site which requires acid cleaning to remove scale accumulation is a prime candidate for the application of this system.
York has completed the second cooling season of field installations for the ED 2000 product line and the forth year treating the cooling system in the headquarters building in York, PA. Results are very positive, and information can be made available on these sites.
Global Water Technologies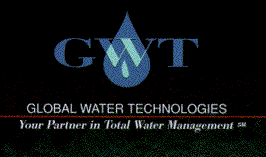 Global Water Technologies, through its subsidiary, Psychometric Systems, Inc. is a global leader in the design, engineering and construction of industrial cooling towers.
In 1998, Global Water Technologies signed a licensing agreement to market the ED 2000 system to prevent and eliminate costly scale build-up within cooling water loops and cooling towers for various industries worldwide through it's subsidiary, Applied Water Technologies, Inc. .
In today's changing operational environment, innovative solutions are necessary to remain on the cutting-edge. Regulatory, profitability, environmental and competitive pressures are driving plant management teams to be more creative in solving operational challenges. Applied Water Technologies, Inc. (AWT) a Global Water Technologies, Inc. (GWT) subsidiary has the answer to these important challenges related to cooling water management.
AWT's AquaPhysics™ series of "non-chemical" treatment technologies coupled with on-site monitoring and service provides a proven, environmentally-sound approach to cooling water management. The three-phase, AquaPhysics™ system employs technologically advanced equipment that comprehensively addresses scale, biofouling, corrosion, and suspended solids. The combination of these leading-edge technologies results in cold, clean water for optimum cooling efficiency and recycling - without the use, storage and handling of hazardous chemicals.

Goodway Technologies Corp
420 West Avenue
Stamford, CT 06902-6384
The combined use of Goodway brush punching and ED2000 technology can maintain your chillers and heat exchangers at the initial peak performance. Goodway's current product line encompasses a wide range of Tube/Pipe Cleaners, Duct Cleaners, Vacuums, Hi-Pressure Washers and other maintenance-related equipment. Goodway now offers the ED 2000 Electronic Descaling System for chillers, evaporators, condensers, fire tube boilers and heat exchangers.
Goodway was the first company to develop rotary tube cleaning technology. The RAM-4 Tube Cleaner is the fourth generation of the original rotary tube cleaner. This machine makes tough tube cleaning a simple, one-person operation. As a brush or other cleaning tool is rotated through a tube at the tip of a flexible shaft, water simultaneously flushes out loosened deposits, leaving the tube thoroughly cleaned. Flexible shafts and accessories are available for cleaning tubes/pipes 1/4"-1" (6.4-25.4mm) I.D.