Pumps
Quick Index:





Pumps

The solubility of CaCO3 decreases as pressure decreases.





At the tip of vane in a pump, the local pressure significantly drops due to high rotating velocity (i.e., Bernoulli equation), resulting in uncontrolled precipitation.




Solution:
Electronic Descaling 2000 System installed in inlet pipe
Controlled Precipitation will Prevent Impeller Fouling
[ Top of Section| Top of Page | Return to Home ]



Vertical Three Stage Industrial Pump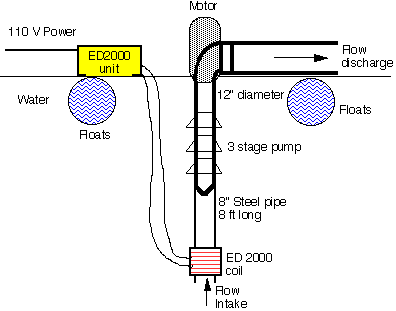 Problem:


A Peerless pump transporting quarry water used for service water (cooling) and process water (slurry) in a cement plant fouled every 10 - 30 days and required an acid wash each time. The pump was mounted on a floating platform located in the quarry. The pump had a 8" intake pipe and a 12" output pipe transporting the water one half mile. The CaCO3 of the quarry water was 400 ppm. The pump fouled every ten days in the winter months and every thirty days during the summer months. A crane was required at each of these shutdowns to remove and acid wash the pump. The cost for this process was $1,000 per cleaning or $24,000 per year.

Solution:


The Electronic Descaling 2000 unit was installed on the pump intake. Since the intake pipe was under water, a ceramic coated coil was used for the protection from high pH water.

The pump now operates continuously at maximum efficiency (56 psi).
The elimination of the acid wash has significantly reduced maintenance costs.
The expected life of the pump has been extended.
[ Top of Section| Top of Page | Return to Home ]